Margaret and her husband Brian were living in a 3-bedroom semi-detached house in Coventry. Margaret explains more about their reason to move to Albany Meadows at the end of 2019.
"Brian had recently suffered a stroke and although he had made a very good recovery with his general mobility, walking and speech, which was almost all back to normal, it had been a little bit of a wake-up call that our large house would get too much for us at some stage in the future. We were already struggling to manage our large garden and we both agreed it would be good to move somewhere more manageable sooner rather than later, and without the worry of having any stairs or steps.
"With that in mind our initial property search was based on finding a re-sale bungalow, and it was when we were searching for properties online that we started to come across local retirement schemes. Looking into what they offered we agreed that a move to somewhere like this could work really well for us. Our children still live locally and they were fully behind us deciding to move to a local retirement development, especially if it would give us an easier lifestyle.
"We looked at a couple of retirement schemes in Coventry and Kenilworth but we weren't too sure about them. Albany Meadows had popped up when I was searching on the internet so it was on our list, but we were yet to visit.
"It was on a Sunday when my son was due to come over to pick us up to have Sunday lunch at his house in Kenilworth that he drove past Albany Meadows earlier that day and decided to pop in and take a look for us. He called us up straight after and said he would be picking us up half an hour earlier as he really wanted us to see it.
"We could see why. As soon as we visited that afternoon we are immediately bowled over. Having already looked at two or three other schemes in the area, they just came nowhere close to the wonderful location and peaceful feel of Albany Meadows.
"We discussed moving here with all of the family and they were all in agreement that it was a perfect move. Even though we were initially thinking about a bungalow, once we explored the available homes here we actually preferred the apartments as they were so spacious. We really liked the fact that the homes here were just ready for us to move into with things like new fitted carpets and built-in appliances all in place for you. The apartment we went for has a pretty outlook across peaceful fields from a private patio. We overlooked fields in our previous house and that was something we would have hated to lose.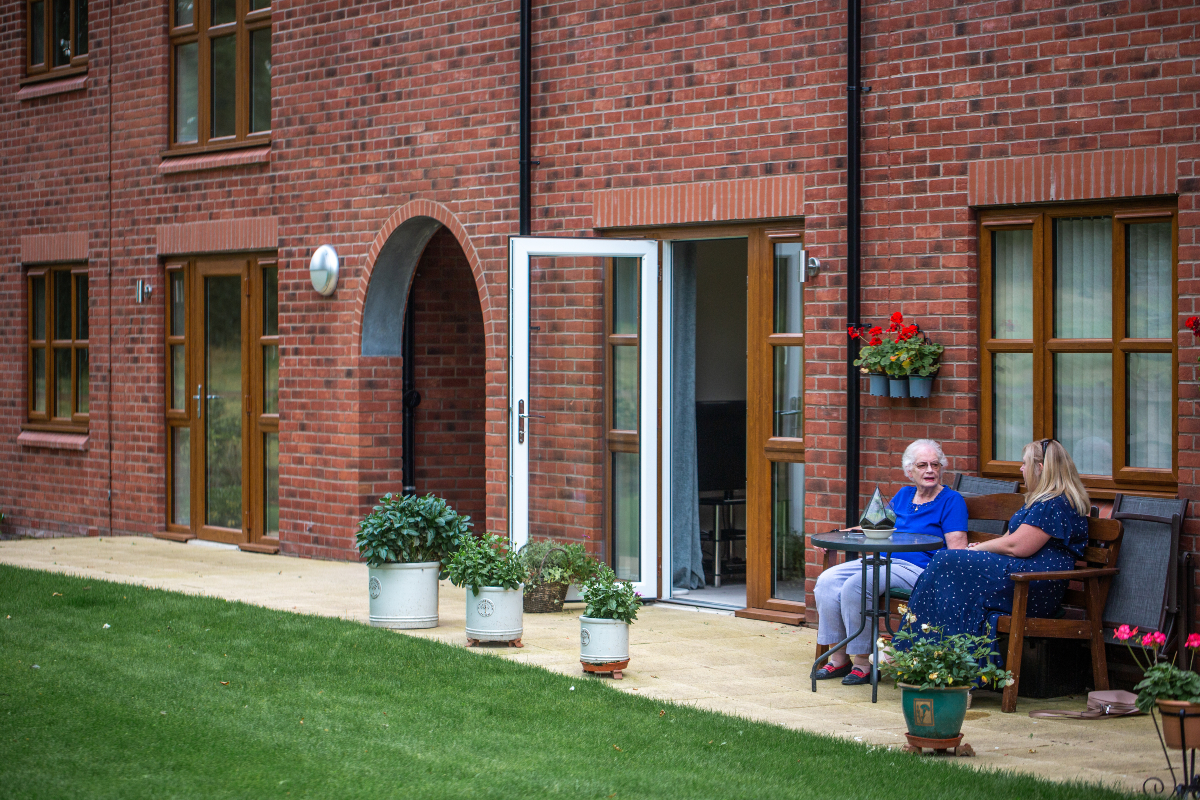 "We moved in in late 2019. The family were keen for us to be in before winter so helped us move sooner while our house sale was still going through. We obviously had no idea at that time that Covid and a period of lockdown was on the way, so when that happened we were just so incredibly relieved that we had moved in quickly and were living in such a friendly and supportive community. We would have been so lonely and isolated in our old house.
"It was really nice too that our family were local as they were able to visit and drop off shopping to our little patio and we could have a nice chat from inside our home.
"Sadly in August my husband passed away very suddenly. It was a very sad time for me but I have to say, and my family would completely agree, I really was in the best place possible to be able to deal with what had happened. I had so much support and friendship around me the Village Manager here was quite simply a rock for me. They were so supportive and would come and see me every day to check on me and see if there was anything I needed.
"Thanks to the Village Manager, all of my new neighbours here and the support and lifestyle benefits you get living at Albany Meadows, I've now adjusted well to life here on my own. It's so reassuring to have such lovely people around, many in a similar situation to me. It's made such a difference to how well I have coped with everything. All of my children said they would have worried so much more about me if I'd not been living here.
"Shaun who provides the home support services that are included with each home here is such a big help to me too. He's always there every week to provide domestic help and does all sorts of little jobs for me.
"And now that I am on my own I feel especially reassured that I can contact someone at any time in an emergency too. I have had to use the emergency call line built into my home's well-being system and they were able to provide the help I needed and also called my family who were here within fifteen minutes.
"Overall though, one of the best things about living here really is the people. From the Albany Meadows team to all of the residents that I now call friends, everyone really is so nice. Even if you are just popping out for a walk you'll always bump into someone for a friendly chat. And we all laugh a lot which is just wonderful.
"I really enjoy the social life, and while Covid did halt some of our normal social activities we soon got up to speed with the help of the Village Manager on how to join in with virtual coffee mornings and quiz nights, I never felt lonely. As restrictions start easing again though it is going to be nice to be able to get back to spending more time together socialising face-to-face and organising our usual fun events.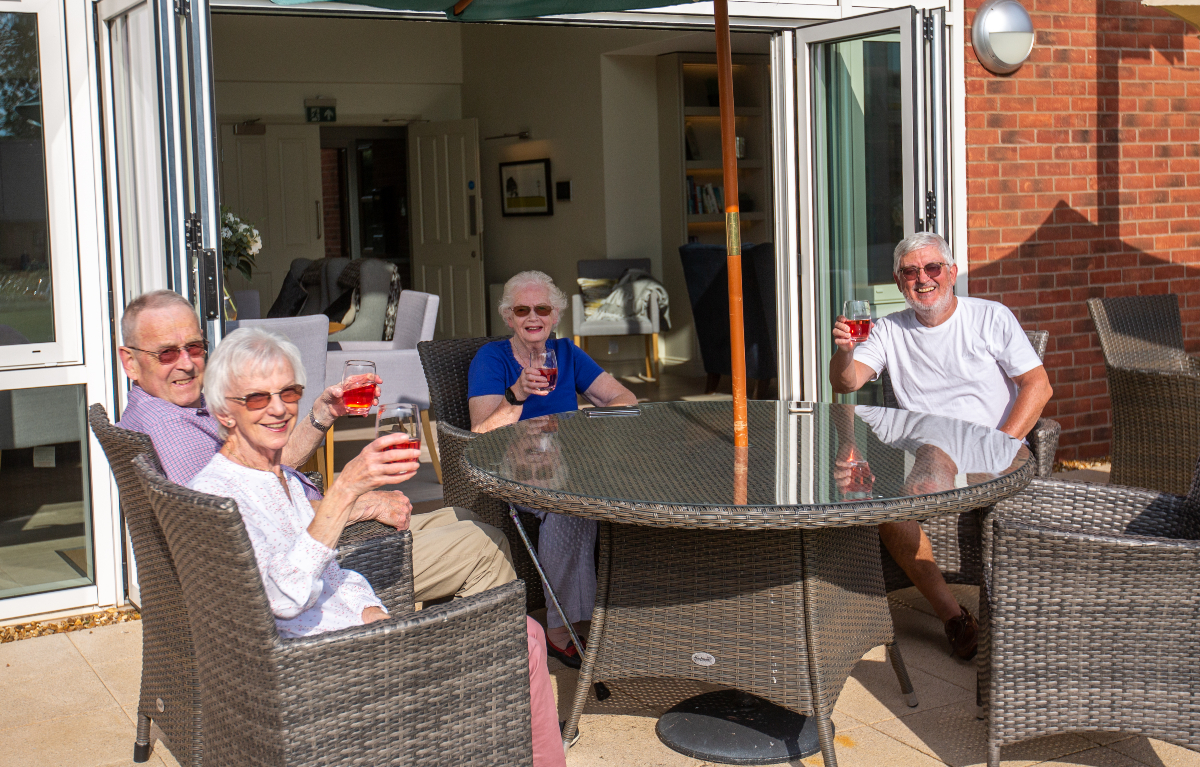 "It can be a big decision to make a move like this, but I would say to anyone thinking about it that they should jump at the chance to move here. It's obviously fantastic to live in a lovely brand new home, but really it's the friendly environment, picturesque location, wonderful shared lounge and the support that is there to make life easier that really do make this such a special place to live."