Peter and Sue Wilson moved into Albany Meadows at the start of 2020. The couple explain more about their decision to move and how they are finding life here.
"We'd been living in our previous home, a 3-bedroom semi-detached house in Coventry, for over 40 years. It was where our twin daughters had grown up and it had been a wonderful family home.
"We were both busy enjoying an active retirement and hadn't really had any big conversations about moving, we just knew that while we loved our house and garden the upkeep was starting to become a little bit of a burden.
"We often visited Kenilworth to go shopping and it was when we were driving there one day that we spotted the retirement homes for sale signs at the top of the lane that leads to Albany Meadows. We said then that just out of curiosity one day we must pop in and take a look."
"It was a few weeks later that Peter had been out all day leaving me home alone on a pretty wet and dreary day. Sitting there I realised that when he wasn't home it could feel very lonely where we were living. Our neighbours were busy and rarely around so there was no one to chat to or life passing by the house. When Peter got home I said let's go for a drive, grab a coffee and go and take a look around Albany Meadows.
"It was very impromptu. We arrived and were greeted by Tracey in the show home. She gave us a tour around the grounds and showed us inside a few different properties. We took a brochure away and said we would have a think about it.
"We chatted at length about it that same evening and both agreed that there was just something about Albany Meadows that felt perfect for us. We loved the location, the surroundings and the whole concept of living somewhere where we wouldn't feel isolated and there would be life, people and support around us.
"We went back the next day to take a more detailed look inside the available homes. While we had originally liked the idea of a bungalow, when we looked at some of the apartments we realised they were actually bigger and this was important to us as Peter had a lot of things he would want to keep in the second bedroom. He also loves the sun and the apartment we were leaning towards had a lovely sunny patio that looked out across the development. Perfect to sit and watch life go by.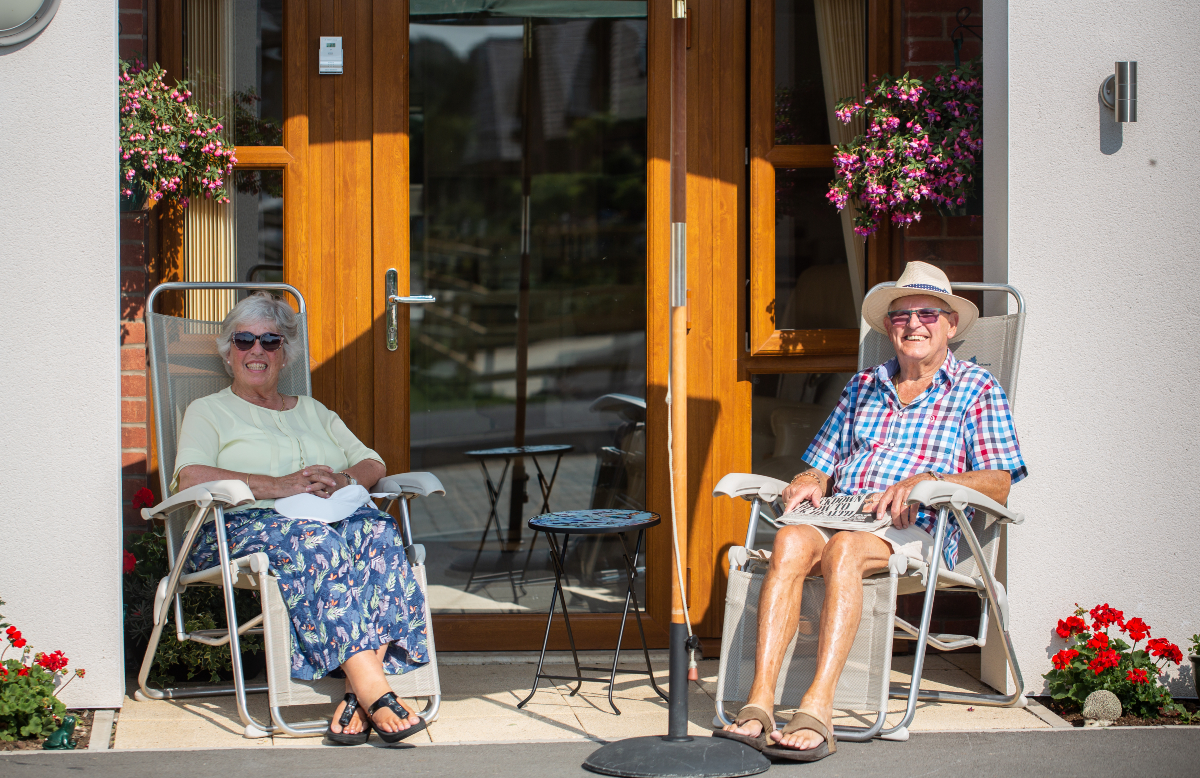 "We wanted our family to support our decision to move, especially as it was such a quick one, so we arranged for them to come down and take a look. They loved the idea of us moving here, especially when they learned more about the lifestyle and support benefits we would also get living here. We showed them our preferred apartment and they agreed it was a great home, perfect for us.
"We were a little bit apprehensive about the moving process, but we knew we doing it at the right time in our lives, before it would feel like an overwhelming task. We put our house on the market and it sold in a week so very quickly we had to turn our attention to decluttering and planning what we were going to take with us.
"We had a big loft clear out day with our daughters, and they took away lots of keepsakes and memories of things they wanted to keep from their childhood. The family were such a big help in getting us ready to move. We had to be quite decisive in what we kept and didn't keep, but to be honest this move was all about a new start and it would be nice to have some new modern furniture in our brand new home.
"There were lots of things about the Albany Meadows lifestyle that appealed to us. The community and sociable aspects of the development were the initial draw, but we also loved the idea of having such a low maintenance home – now and in the future. The beauty of our apartment is we have absolutely no concerns about any of the external maintenance, whereas our previous home was getting to the point there would be an on-going list of things that would soon need repair or expensive maintenance. It's so lovely not to have to worry about that anymore.
"We also feel so much more safe and secure here. There is always someone around and we are never worried about answering the door anymore. You also know in an emergency you can call on someone really quickly to get help, but the call system is so discreet you'd never know it was there.
"Peter has two new hips and we know there could possibly be health concerns that arise for us in the future so it's also reassuring to know that we do have access to whatever level of support or care we might need without having to consider another house move.
"We really can't fault living here. The last 12 months have obviously been a bit strange with the pandemic, but we were just so relieved we were living here during the periods of Covid lockdown and not in our old house where we wouldn't have seen anyone. We would have been so lonely and the Covid situation would definitely have got us down. It was the complete opposite here! You would always see a friendly face around the grounds for a chat and we all just looked out for each other. The fun community spirit that we have here was absolutely invaluable.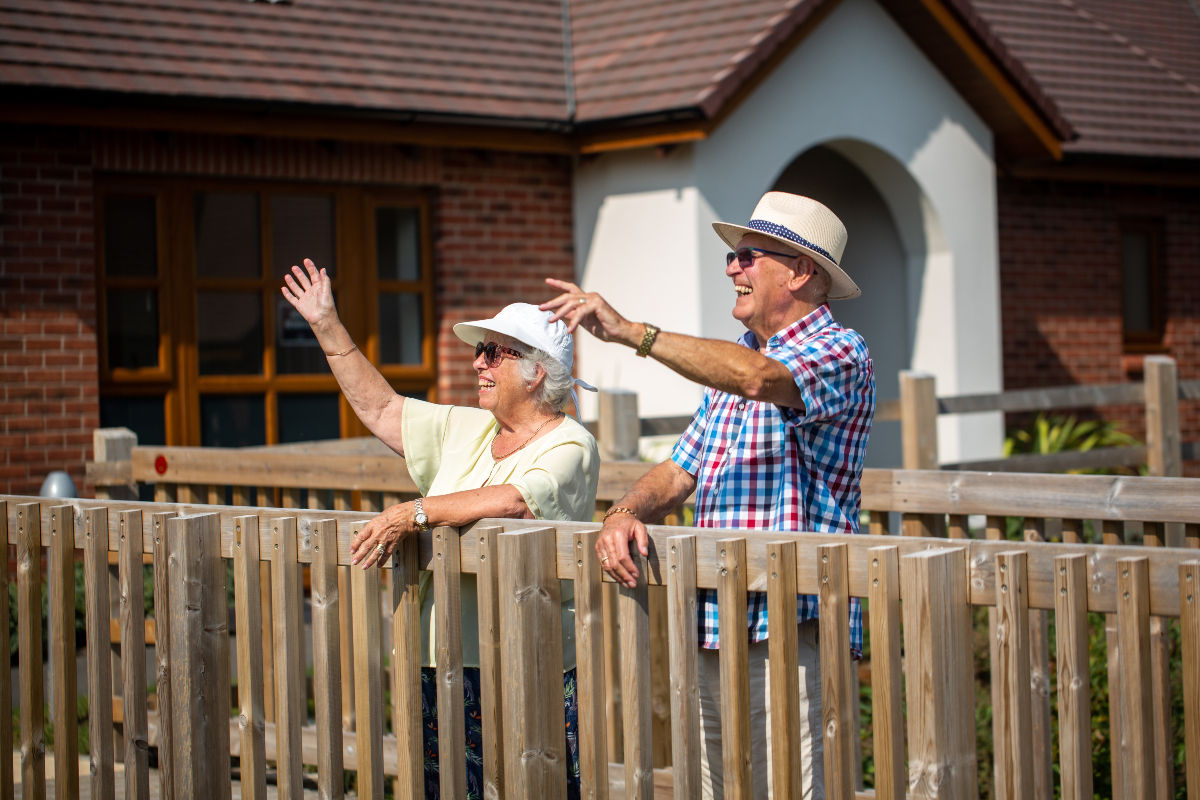 "We are really happy we chose an apartment, it's perfect for us and life is so much easier. We've added some built-in furniture into the large second bedroom for all of Peter's things, and we have all the space we need – plus no concerns about stairs in the future.
"When we made what was quite an impulsive decision to move here, it really was the right decision. Living here is so much more than we ever envisaged, it's easy living, nice people and a lot of laughter – all in beautiful surroundings. We couldn't ask for more."